What does it mean?  Who does it benefit?  Why should we consider now?
Aging in Place Definition: "the ability to live in one's own home and community safely, independently, and comfortably, regardless of age, income, or ability level."
- Source: The U.S. Centers for Disease Control and Prevention
Thousands of older individuals choose to "age in place," remaining in their homes and neighborhoods they have helped build and contributed to all their lives. "Aging in place" describes individuals who continue to live in their homes as they age, rather than relocate.
As people age, they become predisposed to multiple chronic conditions that can lead to diminished functional capacity. For the aging population to remain independent, their housing must accommodate their changes in physical ability. Making those changes before something happens is highly recommended. If a fall does occur, you might be told you cannot return to your home until safety measures have been met.
The reality is that 2.5 million seniors are treated annually in hospital emergency departments for fall injuries, according to the Centers for Disease Control and Prevention.
So why start sooner than later on those "Aging in Place" homeowner projects? We already discussed the first reason: not being allowed to return home until improvements have been made. A rushed decision can lead to making unnecessary choices and spending your money needlessly. On a larger scale, two additional reasons stand out. First, starting early can increase the equity in your home while you are able to enjoy the changes. Second, the changes can prevent that trip to the hospital because of a fall.
Brad Hunter, Chief Economist with Home Advisor, says, "If homeowners start early, they can spend sufficient time researching and planning to avoid wasted time and sub-optimal solutions. And, homeowners can protect, and possibly even raise the resale value of the home by making the home more appealing to buyers in all age groups with modifications that have a broad appeal."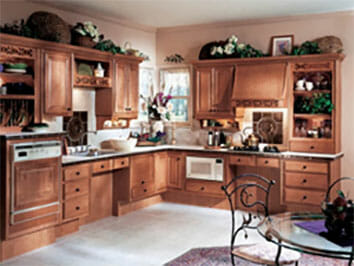 Open space beneath the sink and stove provides knee clearance for wheelchair users in this kitchen. The room also features a microwave built into the base drawers and a raised dishwasher to reduce having to bend down.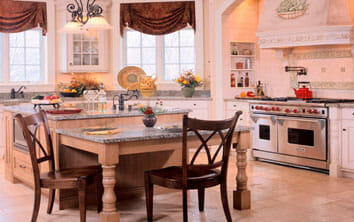 Counter tops positioned at various heights make this kitchen easily usable for any chef young or old. A pot filler positioned over the stove eliminates the hassle of carrying heavy,water-filled pots across the kitchen.
Making homes safe and accessible for the aging population is an important and primary objective of aging-in-place projects. In addition, it's about much more than adding grab bars and wheelchair ramps, which are important first steps. In fact, many popular aging-in-place improvements—wider doorways, open floor plans, zero-step entrances, remote-controlled window coverings and motion-sensor lights, just to name a few—can enhance the quality of life in a home even as they make the home safer. Such improvements are often "invisible" and can be just as beneficial to homeowners in their 30s or 40s as they are to homeowners in their 70s or 80s.
Here are just a few recommendations to consider:
Carpet
If installing carpet, use a tight-looped version with a low profile (up to 1/2" high) and a thin pad (10-pound density) or no pad, and attach securely to the floor beneath with a direct glue-down application.
While  carpet can absorb sound and feel warmer, thick carpet pile and paddings can be tripping hazards.
Carpets should be kept taut and free of bumps. Large area rugs should be secured to the floor with non-slip mats or double-sided tape.
Throw rugs should be avoided.
Flooring Materials
Install soft, resilient interior flooring materials such as cork, rubber, or linoleum.
These surfaces are gentler under foot than harder materials and can lessen the impact of falls
For surfaces requiring floor wax, use a product that produces a non-glossy surface
Lighting
Provide sufficient lighting throughout, especially in hallways and entrances.
Well-lit exterior and interior spaces can help prevent falls and create safer home.
Ensure adequate lighting on all stairs by installing overhead fixtures or wall sconces.
Replace toggle switches with glow-in-the-dark rocker panels at 36" to 44" above the floor.  Glow-in-the-dark rocker panels can also be motion sensitive to turn on automatically when they sense someone approaching.
Consider lighting under cabinets in the kitchen.
Install two-way switches controlling lights at the bedroom entrance and by the bed.
Hardware
Install easily reachable, lever-type hardware in kitchen and in bathrooms.
Pull handles are easier to use than round knobs
Locate shower or bath controls for caregiver access; or provide two sets of controls.
So what is "Universal Design"? How does it relate to aging in place or multi-generational living?
Universal Design is about creating an attractive, stylish space that everyone, regardless of age, size or ability, can live in or visit. Kitchen designs shown above reflect Universal Design.  A home with Universal Design makes a home compatible with everybody's needs and abilities as they change. Barbara of Overwhelmed How Can I Help, LLC reinforces these ideas with her design build background.
So what is "multi-generation living"?
It addresses different generations of one family living in the same house. The reasons for the increase of multi generational households are like a perfect storm of cause and effect. Baby boomers, are sandwiched between adult children moving back home for economic reasons (the "Boomerang Generation"), and aging parents who may be moving in for health reasons (the Silent Generation). To top it off, some of the Boomerangers have children, so a portion of these 51.4 million households have four generations living under one roof – the largest increase in modern history. The multi-generational upswing is further propelled by the effects of an economic recession, waves of immigration, and increasingly delayed marriages among 25 to 34 year olds.
Those are just some of the key factors behind multi-generational housing, but what are the ripple effects? How will it change the market of new homes for sale, buying a house, and real estate investing? How will it change the way homes are designed, built and remodeled? This is where Universal Design comes in.
Once an issue just for the aging population, Universal Design is now more broadly applied to all ages and all stages of life. Boomers may be eager for designs that allow them to live with their kids and parents. They may want space for a stroller or a wheelchair but don't want a home that looks scary, institutional and weird.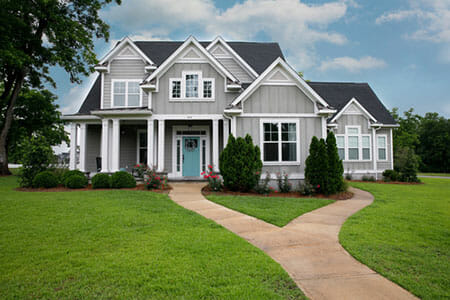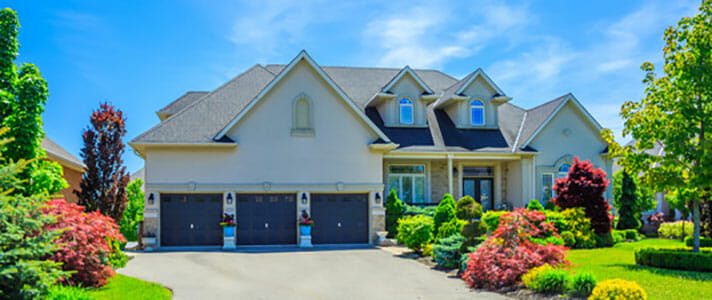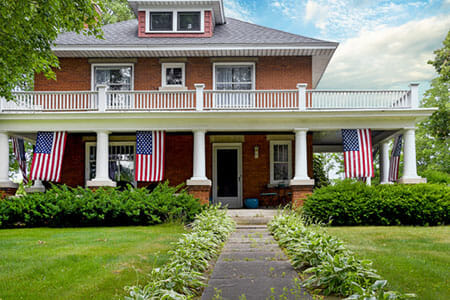 Along with aging in place and multi-generational housing,Universal Design is becoming more of a household term.  More than just an architectural concept, Universal Design is a win-win for sandwich generation Baby Boomers caring for aging parents and their children at home, for grandparents raising grandchildren and great-grandchildren, for those beset with economic challenges,  and for all who are facing the challenges of caring for a loved one with Alzheimer's or other chronic diseases.
Whether your family needs the support now or down the road, Universal Design features are a good long-term investment for the home itself, and they could increase your home's resale value.
According to an AARP survey, as many as 90% of older adults would like to remain in their own homes throughout their golden years. The concept of Universal Design arose to address preferences like these… Beyond that, it aims to promote multi-generational housing that's as friendly to the needs of the grandkids as it is to the grandparents.
So how does a Senior Move Manager® fit into this ?
Senior Move Management is the profession that assists the aging population and their families with the emotional and physical aspects of relocation and/or "aging in place." Senior Move Management professionals — Senior Move Managers® — have backgrounds in gerontology, social work, health care, nursing and psychology. Others come to this profession from the corporate world of project management, technology, accounting or marketing. Senior Move Managers® possess a profound commitment to connecting with the aging population, and a desire to perform meaningful work.
Although specific services vary, most Senior Move Managers® can help by doing some or all of the following:
Develop an overall move or "age in place" plan.
Organize, sort and downsize.
Develop customized floor plans.
Arrange for the profitable disposal of unwanted items through auction, estate sale, buy-out, consignment, donation, or a combination of the above.
Interview, schedule and oversee movers.
Arrange shipments and storage
Supervise and oversee professional packing.
Unpacking and setting up the new home.
Arrange for related services, such as cleaning, waste removal, shopping, senior escorts (for outings and medical appointments, assisting with the selection of a realtor and helping prepare the home to be sold by staging with existing furniture.
Some Senior Move Managers® provide these services directly; others function in more of an oversight or management role. Senior Move Managers® have extensive, practical knowledge about the costs, quality and availability of various local community resources. Additionally, Senior Move Managers® frequently assist individuals who choose to stay in their own homes, but who simply require advice from someone with expert organizational skills and a solid knowledge of aging-in-place concepts to help them achieve their goal of ... not moving anywhere, but improving their quality of life!